Accommodation in Asgard Bed & Breakfast in Stromness, Orkney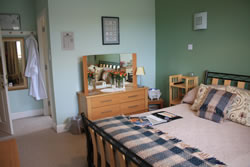 We offer a Bed & Breakfast experience that you won't forget.
We have two double rooms, one twin room and one single room, all of which are en-suite.
Facilities include:
A powerful shower
Shaver point
Electric fan
Tea and coffee
Hairdryer
Digital television
Dressing gowns
Information pack
Full Orkney breakfast – packed lunch, evening meals available.
Cuddle up in perfect luxury - dressing gowns are provided in every room.
Wi-fi is available for free throughout Asgard Bed and Breakfast so you can check your email or surf the web.
You are free to use the garden and outside sitting area.
Facilities for people with disabilities
The walkway around the house has been designed for wheelchairs
The twin room has a walk-in shower, which is large enough for a wheelchair or zimmer frame.
Spare wheelchair and zimmer frame available
Double doors to all public areas
Wide door to bedroom
Guide dogs welcome
As a courtesy to other guests we do not take anyone under the age of 16
Check-in is between 5pm and 10pm
However, you can check-in at other times by arrangement.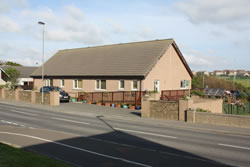 Tariff for Bed & Breakfast at Asgard in Stromness, Orkney
We can now take Credit and Debit cards
£70 to £90* per room per night - Double / Twin room
£35 to £45* per room per night - Single room
* prices are seasonally adjustable
Delicious food available at Asgard Bed & Breakfast in Orkney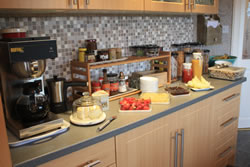 Breakfast Menu (v)
Help yourself to:
Orange or Tomato juice
Homemade yoghurt
Breakfast Cereal
Home-made Muesli
Grapefruit in light syrup or stewed prunes
Local Oatcakes and Homemade Cheese
Fresh fruit
Order:
Bacon, Sausage, Egg, Tomato, Mushroom
Scrambled Eggs with Toast and Bacon
Smoked Haddock with Poached Egg
Clootie Dumpling with Fried Egg (v)
Hot Waffles, Bacon, Egg and Maple Syrup
Black pudding, Sausage and Fried Egg
Tomato & Basil Sausages with Scrambled Eggs (v)
Smoked Salmon with Cream Cheese & Crisp Bread
Whenever possible we use local produce.
---
"Hame frae hame! 9.9/10!"
Rod and Jean, Bervie
"Thank you for an enjoyable stay with that added touch of care that makes a brilliant hostess! Perfect!"
Gera, Sweden
"Tack sa mychet! Very nice, we'll tell whole Sweden about your B&B"
Lars Palmberg, Sweden
"Great family atmosphere; fun dogs!"
Jamie MacDonald, Canada
"Came for one night and stayed six - loved every minute. Enjoyed the food, family + pets and loved Orkney. Thanks."
Chris and Geraint Hughes
"We thank you all for making our Orkney days unforgettable. A lovely room, delicious meals and great company on two as well as four legs"
Anne & Dagfinn Bratland, Norway
"Thank you very much for a fantastic bed & breakfast. Everything was lovely. The best B&B I've stayed in for years"
Verity, Julian and Fred Brauscoube, England
---