Frequently asked questions about staying at Asgard Bed & Breakfast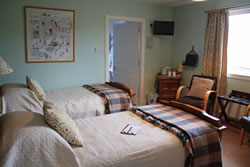 Q. Is the accommodation suitable for a person with disabilities?
A. Yes – we have endevoured to make the house wheelchair friendly. We also have a twin room that has been furnished to make life easier for people with disabilities. If any extra equipment is required, please let us know.
Q. Are there shops nearby?
A. Yes – the local supermarket is a 3 minute walk away. There is also a good selection of (food and craft) shops in the centre of Stromness – a 7 minute walk - and Kirkwall – a 15 mile drive.
Q. Are there any restaurants or pubs nearby?
A. There are five restaurants and three pubs just five minutes walk from Asgard.
Q. Are there any petrol stations nearby?
A. There is a petrol station next to the local supermarket – half a minutes drive away.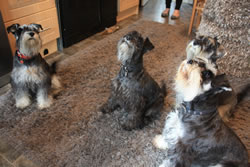 Q. Can my dog stay at Asgard?
A. Guide dogs are more than welcome. However, we have four schnauzer dogs so it may be wiser if I say no to other dogs.
Q. Is there a telephone in Asgard?
A. We don't have a public phone but you are welcome to use the house phone for local calls.
Q. When do I check-in at Asgard?
A. Check-in is between 5pm and 10 pm. However, you can check-in at other times by arrangement.
Q. Can we stay at Asgard in the winter as well as the summer?
A. Yes. Winter in Orkney is beautiful as well – and Christmas shopping in Orkney is a relaxing experience where you can pick up unique gifts.
Q. Can we stay over holidays (Christmas / Hogamnnay / Easter)?
A. Yes.
Q. Are there any good walks to do whilst we stay at Asgard?
A. Yes. Our information pack contains a map with local walks marked on it.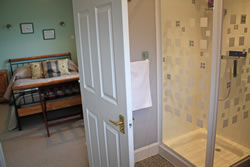 Q. Are there any sandy beaches nearby?
A. Orkney has some beautiful beaches. Warbeth near Stromness (a five minute drive) has long sandy areas and nearby Skaill beach (a ten minute drive) has lovely sand and stones and the neolithic village of Skara Brae.
Q. Are there any activities, events in the evening?
A. Three main Stromness events are Folk Festival, Shopping Week & the Blues Festival. Local pubs have a lively folk night during the week and bands at the weekend. There is a cinema in Kirkwall, a fitness suite and swimming pool and a squash court for the more energetic, across the road.
---
"Excellent home-made food. Thanks a lot!"
Annie, Germany
"Unlesss fully booked, will always choose here!"
Jack, Eday

"Orkney is beautiful, as were the people we met. We have beautiful memories of both and hope to return soon."
Elisa Felicioli, Italy
"Superb hosts - best B&B ever! Love the dogs :-)"
Gary and Julie, Essex
"Thank you for making us so welcome in your lovely home – the mugs of tea and coffee – the variety of packed lunches and all the kindness"
Monica and Michael Lanigan, Southhampton
"Thank you everyone for your warm hospitality, good food and for allowing is to be part of the family. We shall long remember you and your beautiful Orkney."
Hilary and Gordon Waddington, Sussex
"I loved the place and especially loved all the pets! I'm ready to come back anytime! The cooking was exceptional!"
Joseph Fraser, Canada
"We had a wonderful stay – nice room – such a lovely house! And the best breakfast in our holidays! Thanks for everything"
Julia Westlake, Germany
"Thank you for our most enjoyable visit to your lovely home on our short stay in the Orkney Islands and would most certainly come again in the future"
Alan & Marian Pearson, North Yorkshire, UK
---