What you will find in Stromness when staying at Asgard Bed & Breakfast
Stromness is one of two main towns on the Orkney Mainland and has much to offer the visitor. By far the most distinctive town in the Orkney Islands, Stromness is hemmed in by the hill of Brinkies Brae and the sea. The houses of Stromness spill out over the waterfront with their gable ends to the sea. There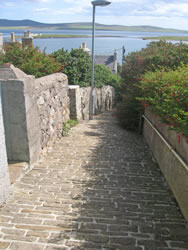 are also many jetties, private piers, closes and alleyways to explore.
Stromness dates from the 17th Century and has a rich history of poets, artists, whalers, pirates, witches and wars. When war broke out between the British and the French sailors found passing Orkney was a much safer way to get around the British Islands than travelling through the English Channel. It was at this time that Stromness flourished! These days there are approximately 2,000 residents. There is a museum to explore, a world-famous art gallery; The Pier Arts Centre, and a well stocked library too.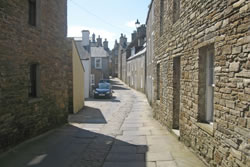 The winding flagstone main street has many shops to visit, from craft shops to search for unique gifts, to butchers and bakeries offering delicious local produce.
There is a great night life to be found in the town, with lively pubs, folk music sessions, and several festivals per year. The Hotels, bars and restaurants all within 10 minute walk. Stromness also has a swimming pool, fitness suite and jacuzzi which are very close at hand. And directly across the road we have the squash court and Orkney Fudge Factory – you choose which of these you'd prefer to visit! At the far end of the town there is a challenging but scenic Golf Course, right next to the sea. Try a round of midnight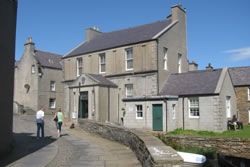 golf in the midsummer, when the sun doesn't set!
Stromness is also an ideal gateway to sites of interest – it is close to the Neolithic Village of Skara Brae, The Ring of Brodgar – the famous stone circle and Maeshowe – a chambered tomb with amazing runic inscriptions. If you're feeling adventurous, the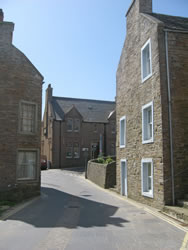 ferry to the island of Hoy departs from Stromness and offers a great day out where you can take in the sites of Hoy including the famous sea stack, the Old Man of Hoy, the Dwarfie Stane (a rock cut tomb) and the beautiful beach of Rackwick.
Asgard Bed and Breakfast is located very close to the ferry which travels from Stromness to Scrabster. You can see a map of where we are located on our Getting Here page. The house lies East-West, so we have the full benefit of the sunrises and beautiful views of the hills of Hoy from the breakfast table and the sitting room.
From the rear of the house there is a beach (pebble) walk worth taking as it runs parallel to the town and gives a great view of the waterfront and harbour.
When departing the NorthLink Scrabster to Stromness ferry, you can locate Asgard by taking three rights -
Turn right off the boat
Turn right at the roundabout
Asgard is the third house on the right.
Check-in is between 5pm and 10pm. You can check-in at other times by arrangement.

---
"A heavenly experience, many thanks"
Noreen Killeen, Ireland
"I had an amazing time! Thank you!!"
Beverlee Smith, USA -
"The only drawback is the diet that awaits us when we go home as the food has been both plentiful and excellent (dinner and breakfast). We will have no hesitation in recommending Asgard as a place to stay"
Fergus and Fiona Miller, Scotland
"You were all so lovely and kind. Thanks for all."
Maddaline and Claudio, Italy
"Thank you for these days spent in Orkney: beautiful house, beautiful people . . . and beautiful little pets."
Daniele and Fabio Mamoli, Italy
"Many thanks for your hospitality and friendliness. We have enjoyed our stay – the highlight of our trip"
Eve and Lyn Brevan, Australia
"Many thanks Harold for your knowledge (and chat) of the local area and the vast amount of places we visited. Many thanks to Dawn. It felt as if you had put yourself in our place and guessed what we needed! We felt very much as friends 'staying over' rather than B&B guests"
Elisa Felicioli, Italy
---